Kay Premium Marking Films
World Class Excellence - Wrap with Confidence using KPMF Vehicle Wrap
Kay Premium Marking Films has been manufacturing high quality self-adhesive plastic films since 1991. Initially trading as Premium Marking Films (PMF) its market reputation was established as a supplier of quality films into the high end of the graphics and printing industry.
In July of 1995, PMF was acquired by Kay Automotive Graphics (KAG) of Michigan USA, a premier supplier of graphics to the automotive industry.  At this time, PMF changed the trading name to Kay Premium Marking Films (KPMF) Ltd.  The acquisition by Kay Automotive Graphics provided a strong financial platform for the future of KPMF.
KPMF occupies a 6,000m² purpose built modern factory in South Wales, United Kingdom designed for the production of high quality self adhesive films.
KAG also has plants located in Michigan, USA and Mexico. These locations work together with the UK as a global team to provide world-class excellence in design, engineering, creative graphics and prototype services that our customers have come to rely on.
KPMF was at the forefront of the development of vehicle wrapping films initially for the German taxi market, where directives stated that all taxis had to be a light beige colour.  Taxi Beige is still included in the VWS I range of products, although the VWS portfolio has grown extensively and now includes digitally printable films, protective overlaminates, bespoke colour matching and an innovative selection of pearlescent, starlight, iridescent and carbon fibre effect films, all suitable for the constantly developing vehicle wrapping market.
KPMF currently distribute products through a worldwide network of distributors, offering a comprehensive and diverse portfolio of materials perfect for signage, vehicle wrapping, graphics, digital printing, automotive and functional applications.
Whatever the application KPMF can provide the solution; and with access to extensive laboratory facilities, we pride ourselves on our ability to develop niche products for our customers and a comprehensive technical service incorporating product testing, and performance validation.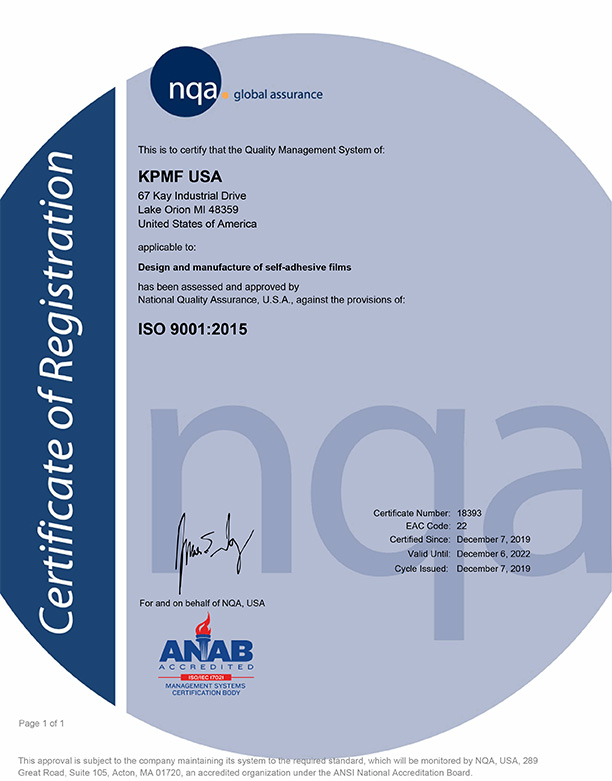 IAFT 16949:2016
Quality Management System of IATF 16949:2016 for the design and manufacture of self-adhesive films.
ISO 9001:2015
Quality Management System of ISO 9001:2015 for the design and manufacture of self-adhesive films.